Mid-century visions of the future with a Space Race aesthetic
Similar to how the 1930s experienced a short but intense period of architectural fascination with a singular "modern" concept, the 1940s and '50s had their own relatively short-lived obsession. In the '30s it was aerodynamism on everybody's minds, resulting in the proliferation of Streamline Moderne's smooth forms. But the following decades had even more exciting technological breakthroughs – the dawn of the Space Age and nuclear power. These new cultural turning points began to take precedence, and architects dutifully shifted their focus to enhance buildings with Space Age features – flying saucer shapes, starburst details, atomic flourishes, and gravity-defying cantilevers. This mid-century, out-of-this-world vision of the future is what makes Googie buildings today retain such a rich retrofuturistic vibe, as if you're standing on the set of The Jetsons (a show that actually took inspiration from the new style springing up all over).
Though spaceflight itself may have been reserved for a lucky few astronauts, Googie architecture made it possible for even the more terrestrial citizens to enjoy a little futurism in their lives. In this way it was also similar again to Streamline Moderne's democratic designs, which brought aerodynamic advancement widely into the home through toasters, vacuum cleaners, and more, and it's why the Googie style is sometimes referred to as Populuxe, for popular luxury.
Accordingly, the style was applied to a wide array of publicly accessible buildings, from gas stations to car washes, and fast-food joints to coffee shops – a well-known version of the latter giving the style its name. These establishments did share another common theme: their relationship with the car. The public was more mobile in these decades, particularly in the wide expanses of the Southwest U.S., where long stretches of toll-free highway allowed motorists to stop off at competing chains mere exits apart. The ability to capture someone's attention in the car and for short stop-ins became more important. Thus Googie architecture, with its bright pastels and neons, parabolic arches, and exaggerated typography – usually with each letter on its own mini-billboard – was a popular choice for fast food chains and diners. Motels, also catering to this newly mobile consumer base, likewise adopted the style with gusto.
While Streamline Moderne was an important stepping stone between Art Deco and the International Style, Googie architecture was really more a one-off, self-contained style that burned brightly, but out quickly, in the deserts of California and Nevada. The whole nation, and really the world, was swept up in the excitement of the Space Age, but perhaps the Californians' proximity to the factories of Northrop Grumman and Lockheed Martin made it feel that much closer to home. Plus in the big cities of Chicago and New York out East, Googie had to compete with the shiny new International Style coming from Europe around the same time. Still, to this day Googie buildings are a perfect time-capsule of that '50s era with its eyes on the stars, and the style has become iconic in popular culture outside of just the West, precisely for the richness of those whimsical, retrofuturistic visions.

Angled, cantilevered roofs
Roofs were angled uniquely, usually cantilevered in gravity-defying angles and upturned like our eyes to the stars

Swooping roofs
If they weren't angled sharply, roofs were smoothly curved upwards to showcase "futuristic" methods and motifs

Space Age imagery
Flying saucer shapes, "Star Trek" style deltas, and other elements of the space age heavily influence the style

Eccentric shapes
Starbusts, boomerangs , hexagons, and other weirdly shaped dingbats are commonplace in Googie signage

Retrofuturism
These buildings embody the '50s vision of what the future would be, giving them rich retrofuturistic vibes

Atomic imagery
Advancements in nuclear science filtered over to architectural details though atomic and nuclear shapes

Individualized letters
Many times each letter would get its own container, further increasing its ability to catch the eye

Pylons and antennae
Whether to support cantilevers or just to add Space Age flair, verticality could be found in pylons or antennae

Read this article
This Curbed analysis is a great review of the elements that make Googie architecture what it is. The accompanying graphics are also a great way to get the feel of the style.

Visit Southern California
Between the greater Los Angeles area and Palm Springs, there is no better place to see so many Googie buildings still intact. Plan your itinerary with this Curbed map.

Flip through some Disney movies
Disney animators must have a fondness for Googie architecture, because they find ways to sneak it in whenever possible, like Pizza Planet in Toy Story, or the diner in The Incredibles 2.
Comment? Contribution?
If you liked what you read and want to let the author know, if you think there's something we could add or change, or if you have an idea for a new page that isn't created yet, get in contact today!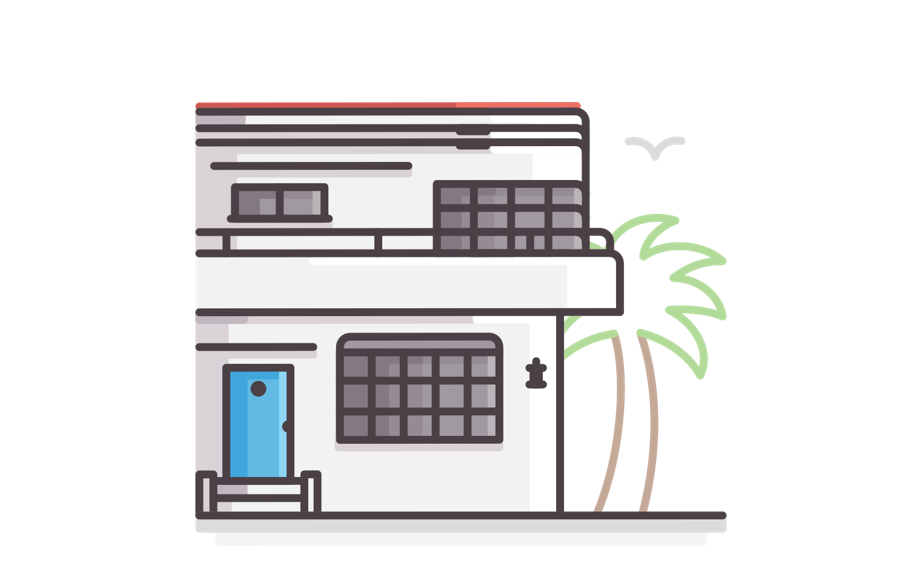 Streamline Moderne
The 1930s precursor style that crawled so that Googie architecture could walk